Garage Door Springs
Back To Our Services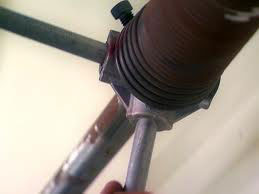 Garage door springs are very important as well as sensitive parts of the whole mechanism since they are the ones that lift the door's weight. In the old days, garage doors were manually handled; nowadays, most of them are automatic and therefore, they need springs to take the load of the door while the opener opens or closes it.
Automatic garage doors take either extension springs, when the door is relatively light, or torsion springs, when the door is heavy. In fact, an average door that weighs around 400 pounds usually takes torsion springs. Therefore, the torsion springs must be even heavier if they are to lift such a heavy load.
Extension springs usually hang at the top of the door while the torsion springs are usually placed on the sides. They usually go in pairs, or in the case of torsion springs, the technicians may install multiple ones to balance better the heavy weight of the door. The springs must always be kept in excellent condition and in fact, if one of them breaks, the experts replace both of them in order to give better equilibrium to the door. Basically, the springs counterbalance the weight of the door and thus they are very heavy themselves as well as difficult to handle. Therefore, if your garage door springs break or get damaged in any way, don't attempt to repair them yourself because you might get hurt. You must call for immediate assistance to our Garage Door Springs Shoreline Company and one of our expert professionals will be right over to fix the damage.
If you have broken springs and you need to install new ones, you might want to consider buying galvanized ones, which are extra strong and weather resistant as well as particularly modern. Parents must teach their children to avoid playing around an operating garage door because a sudden accident might be fatal. Additionally, any switches that control the door's movement or the remote must also be kept where they cannot be reached by kids.
Garage doors requires regular services by professional technicians
As an overall, garage doors need regular services by professional technicians, who will repair possible damages and ensure the steady operation of the door. Minor malfunctions or misadjusted springs may lead to greater damages or the complete failure of the garage door mechanism. You can avoid any further destruction by calling our expert team for repairs, replacements and installations. This way you can have peace of mind.